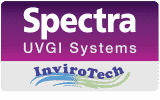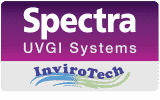 Spectra UVGI Control Panels come with a variety of control and monitoring options. The range starts with a simple control panel which just provides interlocking and on/off control of UV Lamps; and leads to other advanced versions, which have state-of-the-art technology to ensure efficient and convenient regulation and monitoring of UVGI Lamp Systems.
The Basic Control Panel is primarily only for turning the UV light on and off via a selector switch. It is recommended for clients who do not require any level of UVGI lamp monitoring.
Basic Standard:
– On/ Off Selector Switch & Pilot Lamp
– Door safety switch interlocking
– Standard Scope : PVC Enclosure
Basic Plus: MS Control Panel + Standard Features
Basic Max: AHU Interlocking Relay + Basic Plus features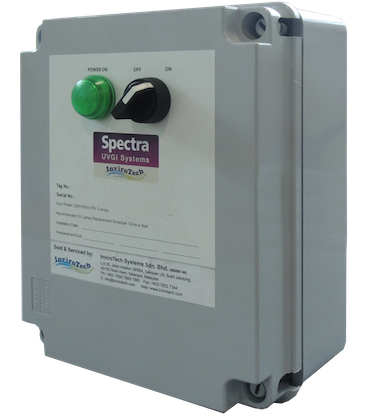 The Alpha Control Panel introduces lamp fault detection, and will provide a visual alert if any lamp is faulty.
Alpha Standard:
– All features of Basic Plus
– Individual LED for lamp fault.
Alpha Plus: Hour counter LCD + Alpha Standard features
Alpha Max: AHU Interlocking Relay + Alpha Plus features The Excel Control Panel introduces BMS communication via dry contacts, and will provide a signal to the BMS if any lamp is faulty.
Excel Standard:
– All features of Alpha Standard
– Dry contact for Lamp Fault
– Common Fault Pilot Light
Excel Plus: Hour counter LCD + Excel Standard features
Excel Max: AHU Interlocking Relay + Excel Plus features
The Advanced Control Panel introduces further communications with the BMS as described below.
Advance Standard:
– All features of Excel Max
– Run status dry contact for Lamps
Advance Plus: Adds Ammeter
Advance Max: Upgrade to Stainless Steel Casing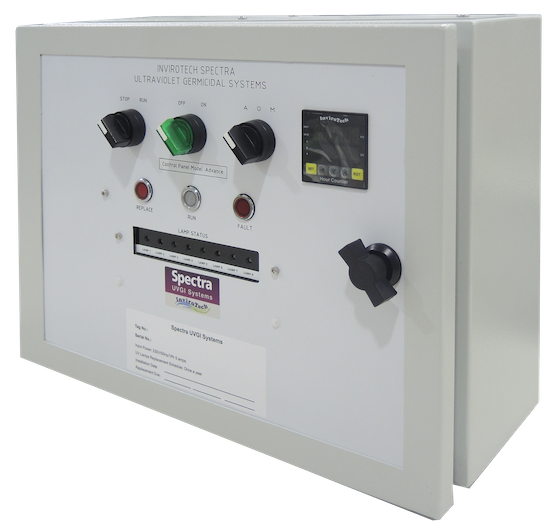 The Pro Control Panel takes lamp monitoring to the next level, with a LCD screen and monitoring of lamp hours for each individual lamp.
Pro Features:
All features of Advance Max
Run Hour counting for individual lamps
LCD Screen display for system messages The Radiometer Control Panel implements a radiometer to measure the intensity of the UVGI system over time.
RM Standard:
All features of Basic Plus + Common Radiometer sensor

Fault Dry Contact + Fault pilot light
RM Plus: RM Standard features+ Programmable hour counter
RM Max: RM Plus features + Individual lamp fault LEDs with dry contact, Run status Dry contact, AHU interlock relay.