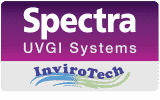 InviroTech Spectra UVGI Systems are built with superior design features that include double glass construction of UVC Lamps with following benefits.
Double glass construction keeps the UVC performance high even with low temperature air moving over the lamps.
IP68 Construcion of lamps provides unmatched electrical safety due to complete isolation of live parts from moist air.
InviroTech Spectra Duct UVGI series are built with features that try to overcome the maintenance challenges present due to the ducts being at elevated level. The in-duct range has three different types of mounting designs, each of which has been designed to overcome the challenges and to make it easier for the user to operate, monitor and maintain the UVGI system.