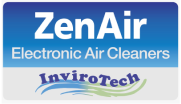 At InviroTech, we believe that products should match your needs rather than you having to modify your system and design to suit the products that come with rigid design parameters. ZenAir is a unique air purification system that can be manufactured to custom sizes. No matter what the size of your AHU or FCU, we can manufacture ZenAir to fit right in.
Today's high performance green buildings need advanced air purification systems, which have high effectiveness and lower energy consumption at the same time. ZenAir meets that need quite economically.
ZenAir is well qualified for earning Green Points in any Green Building Rating System across the region. ZenAir is an amazing product which is sure to get you valuable green points in your quest to reach your desired certification level.