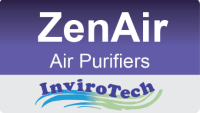 ZenAir Purifiers supplied by InviroTech are your ultimate defense against the indoor air pollutants like PM2.5 fine particles and biological contaminants like bacteria, virus, fungus, mold, spores etc.
ZenAir Purifiers are packed with technology that make them a reliable solution for air purification. ZenAir Purifiers employ dual technology:
• Particle Filtration by high grade filters
• Germ Elimination by UVC.
Besides being efficient at their job of air purification, these machines promise quiet operation and are designed to suit your interiors and decor.
Choices available:
Permanently installed Ceiling Mount Units which save space
Floor mounted portable units which do not require installation and provide flexibility to move them from one place to another.